I'm only 855 words into my writing day as I start this at 8:01am. Apologize (featuring OneRepublic) from Timbaland's album Shock Value just cycled up in the playlist.
My good friend (who also happens to be a writer), Erin Wright, introduced me to Jared Halley (YouTube & Patreon) yesterday, and since then, I've listened to a number of his covers. His cover of Kiss From A Rose was particularly… nah… who am I kidding? It was damn good. His cover of The Sound of Silence had more of a 70s Simon & Garfunkel feel to it than I personally like. If I'm picking covers of that song, DISTURBED's rendition is the best by my estimation. I'm not a Metal fan by any measure, but I could sit and listen to that one on repeat and not mind it at all.
I discovered a couple packages from Amazon outside the door yesterday evening (fortunately before the torrential downpour that knocked out the power yet again) but didn't bother opening them until this morning. I didn't have anything on order that was particularly time-sensitive, so I knew they could wait.
When I did finally open them, I received a pleasant (and no-so-pleasant) surprise.
The pleasant surprise: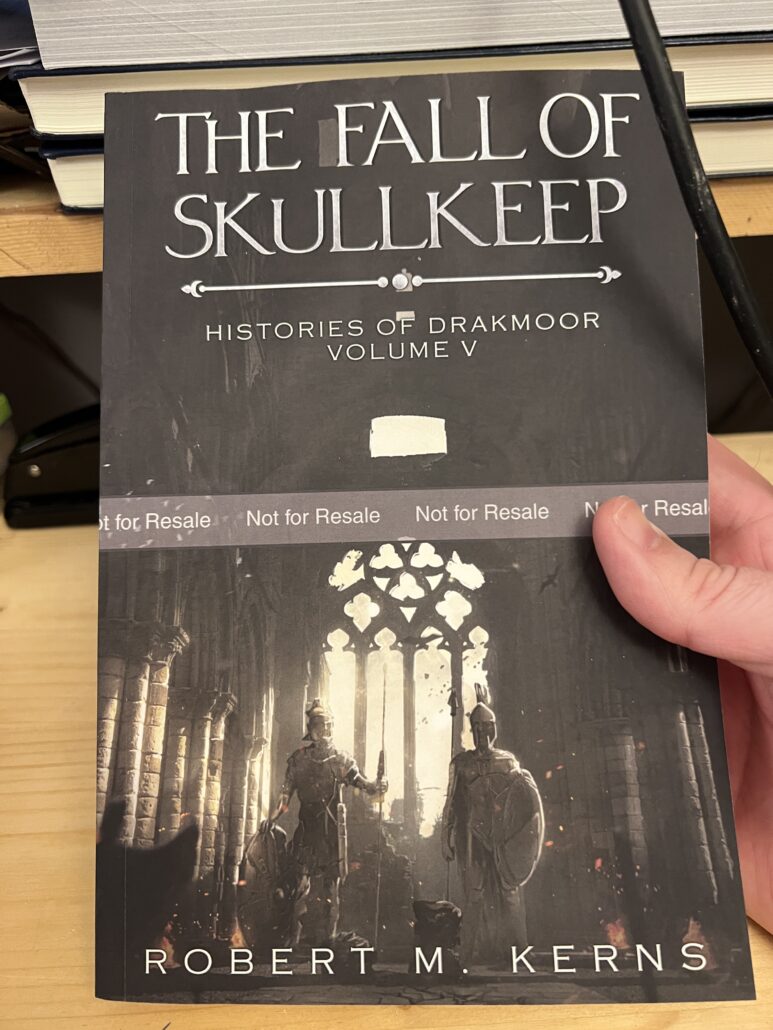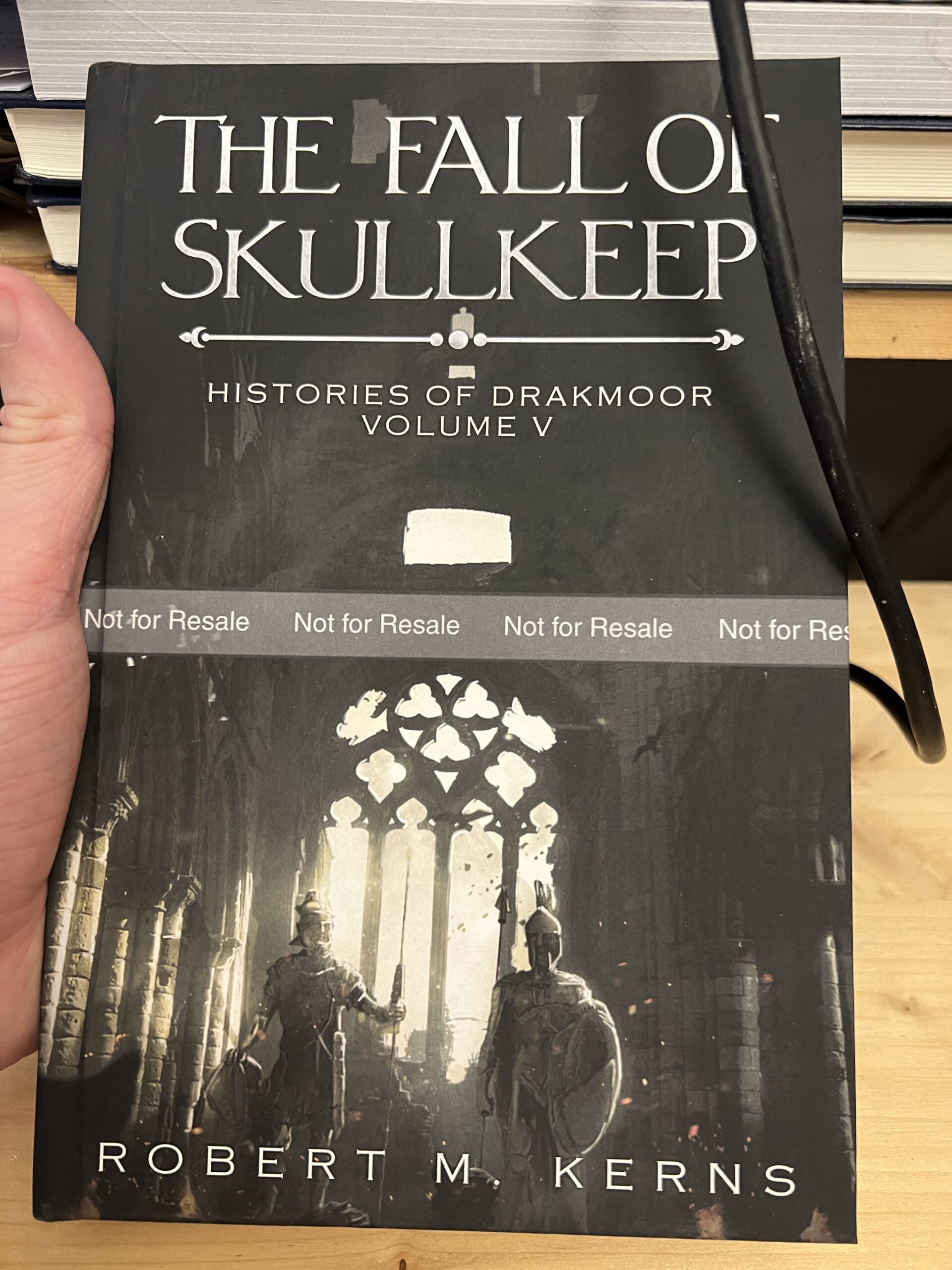 The left image (complete with keyboard cord) is The Fall of Skullkeep in standard, 6×9 trade paperback. The right image (again… complete with keyboard cord) is The Fall of Skullkeep in case-laminate hardcover, which is a first for me. I've always had the option of releasing in hardcover, but Skullkeep is my first. I'll be working with my cover guy over the next month or three to get cover templates for all my print titles to be sure they are available in both Large-Print and Hardcover editions.
Speaking of Large-Print…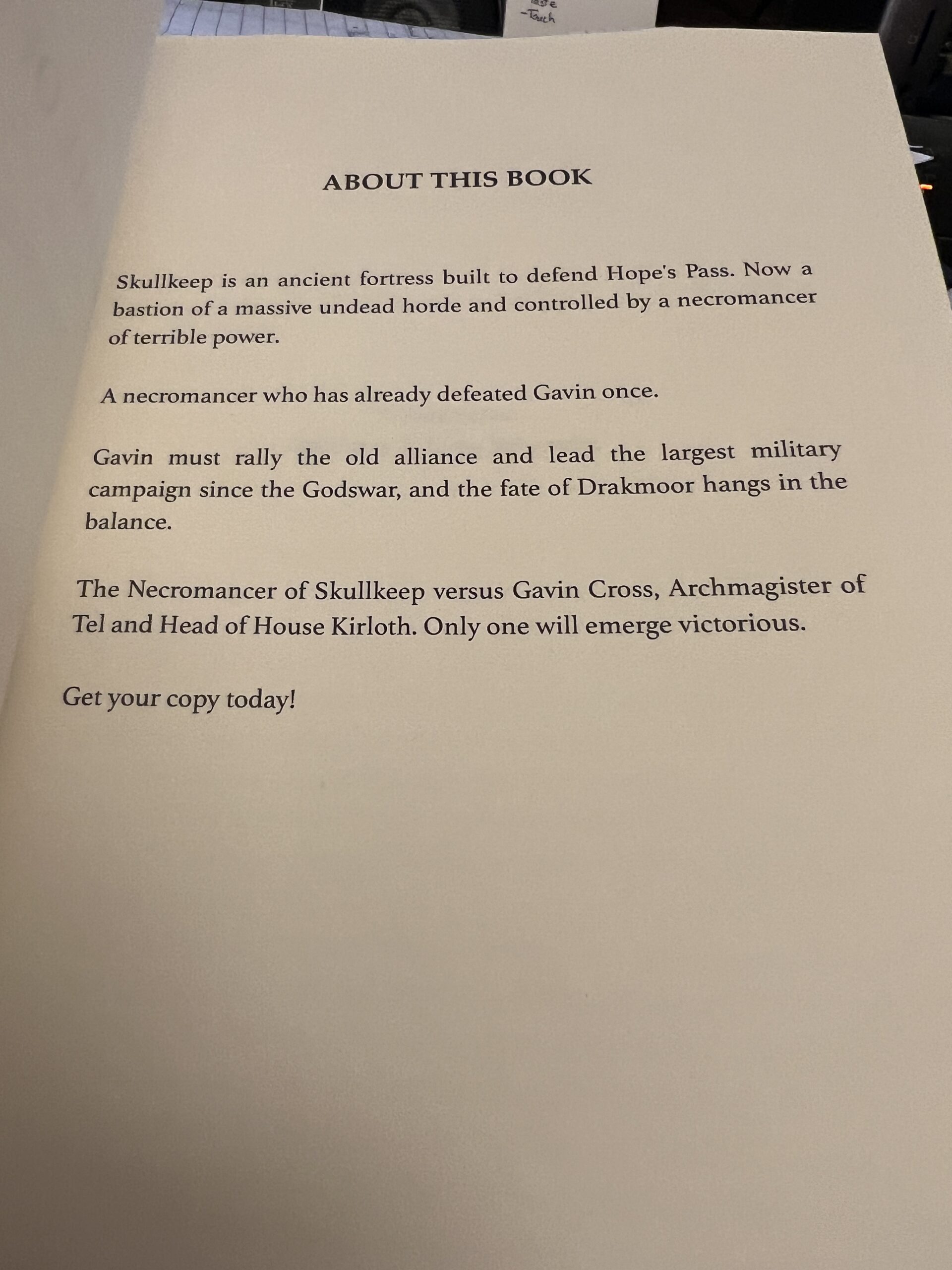 I'm not sure if it's really apparent from the pictures above. Now that I think about it, I should've snapped pics of the title pages.
But again paperback on the left and hardcover on the right… and this is where the not-so-pleasant surprise comes in… I apparently uploaded the Large-Print PDF for the hardcover, when I should've uploaded the regular PDF I used for the paperback.
I've since corrected that, but it was a bit of a shock when I saw the hardcover was almost 50% thicker than the paperback… if not more. The title page solved the problem, because I put "Large-Print Edition" on the title page of all those formats.
This is an excellent lesson in why you should always order printed proofs. They let you examine the cover's fit to the book, in addition to seeing and holding the final product in your hands. With one of my earlier novels–I wanna say Into Vushaar, maybe–the title split across one of the spine corners. I wanna say it was the corner wrapping around to the back cover, but I could easily be wrong.
But!
I would never have known that if I hadn't ordered a printed proof.
Trans-Siberian Orchestra's Requiem just cycled up in my playlist, and the memory of seeing them in concert came right to the forefront of my mind with it. It's the only concert I've ever been to, and it was when they played at the Civic Center in Charleston, WV. Awesome performance. I later learned that my boss at the time, Richard Weldon, was also attending the concert with his wife. Their concert experience was not as enjoyable as mine, though. As I recall, someone spilled their open cup of beer either on one of them or close to them.
Not an ideal concert experience at all…
Part of me kinda wishes I had the kind of emotional connection to music that I do writing. I feel like I could learn to be technically proficient at playing music but not have the underlying emotional connection it takes to make music something truly special. Then again, I could be wrong. I don't think I am, but one never knows.
Either way, paraphrasing a section of my author bio, I have no intentions of stopping writing any time soon. I have too many stories to tell and too much fun telling them.
All right. I think that's enough for now. I need to get back to Chapter 22 of Hyperion.
I hope the days treat you and yours well.
Stay safe out there… at least safer than me.  😁